.TOP Domain 2nd Anniversary: Are You Awarded?
November 2016 is a special month for .top, firstly it's Chinese Single's Day promo on 11.11, then Black Friday & Cyber Monday promo during 11.25-11.28. And most importantly, .top 2nd anniversary on 11.18! Thanks for all our partners' support both in and outside China. We now endow different awards to the following non-Chinese registrars:

(toResellerClub/PDR)
ResellerClub/ PDR(PublicDomainRegistry): During .top 2nd anniversary, PDR not only gives .top homepage placement, sending newsletters, etc, but also gives their sincere wishes by publishing a featured article on Chinese Wechat and Webo. Big Surprise!!

(to OnlineNic, Alpnames, Uniregistry and Gandi)
OnlineNic:Trick or Discount! OnlineNic is the fastest registrar starting the promo for .top, on 31th October, even before Halloween starts! We're grateful for the Fast and the Furious!

Alpnames: As a global registrar with the most .top domains outside China, Alpnames has always given .top the quick support. Thank you for being there!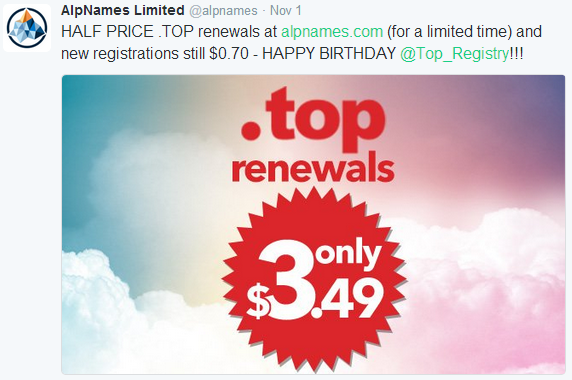 Uniregistry: Look at Uniregistry posting on Nov. 3, very attractive pricing and hot hashtags, higher than 50% discount. Trust your clients benefit a lot from it!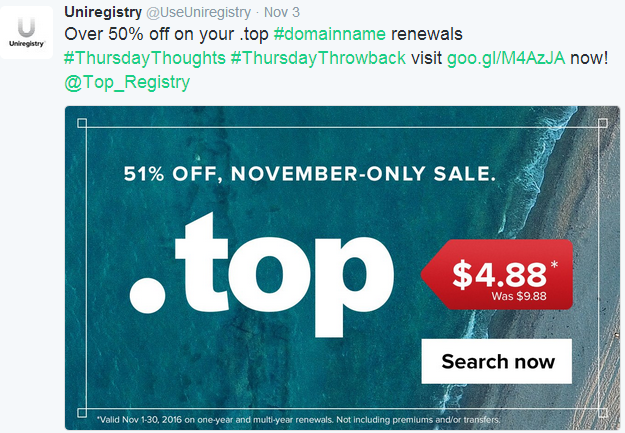 Gandi: The dynamic cartoon pictures show a robot climbing to mountain.top! As a Chinese saying goes: when I stand on the top of Mount Tai, the other mountains appear so small.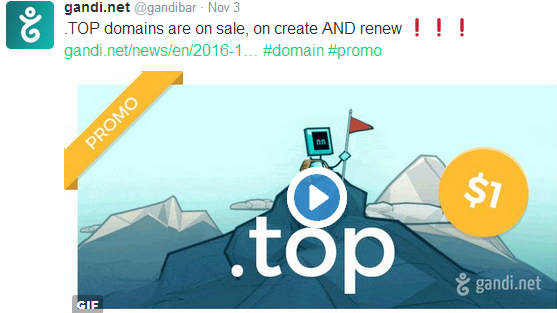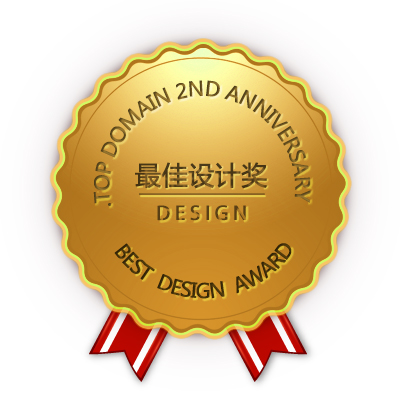 (to FBS, Key-Systems, Namelynx and ODS.VN)
FBS: Red flags, blue sky, white cloud, gray mountains and green grass, simplicity is not simple! Can you read the following keywords in Turkish? If not, no worries, just go ahead and register!!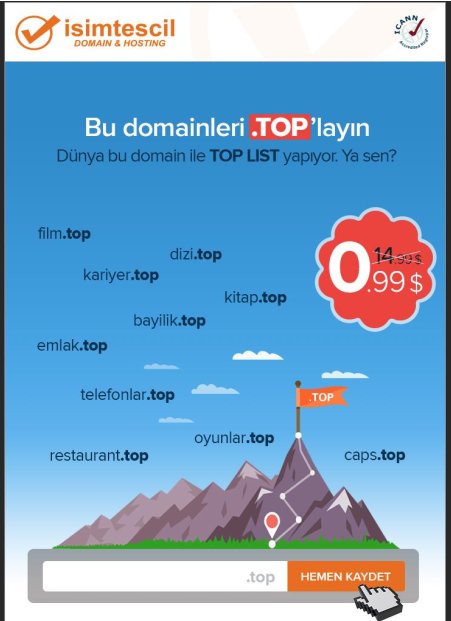 Key-Systems: This is very encouraging, man in the street running and sweating to cross the finishing line, explicitly explains the upbeat meaning of .top.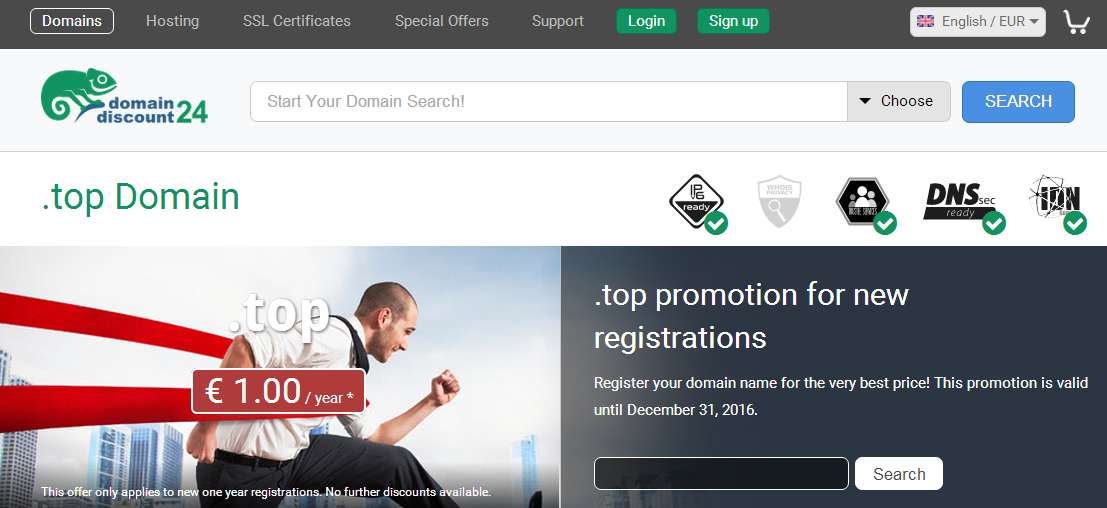 Namelynx: A quite different style from the above, the cute mascot lynx has attracted a lot of attention. Guess our .top mascot NiuDingDing would be happy to make friends with lynx.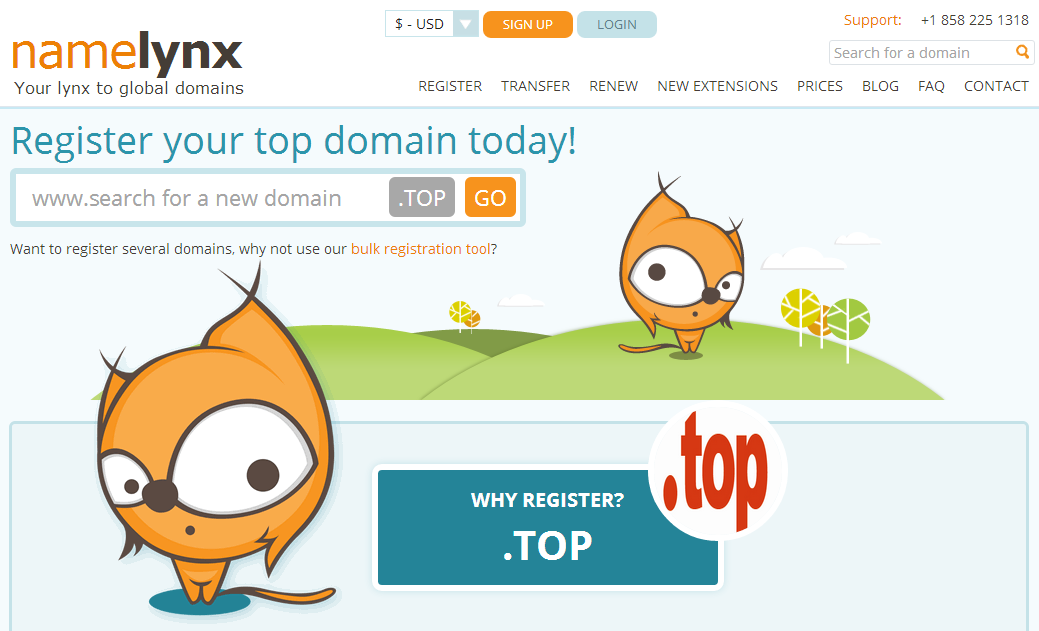 ODS.VN: In today's internet environment, who doesn't want to obtain top online presence and speak louder of themselves? Welcome to join the front row!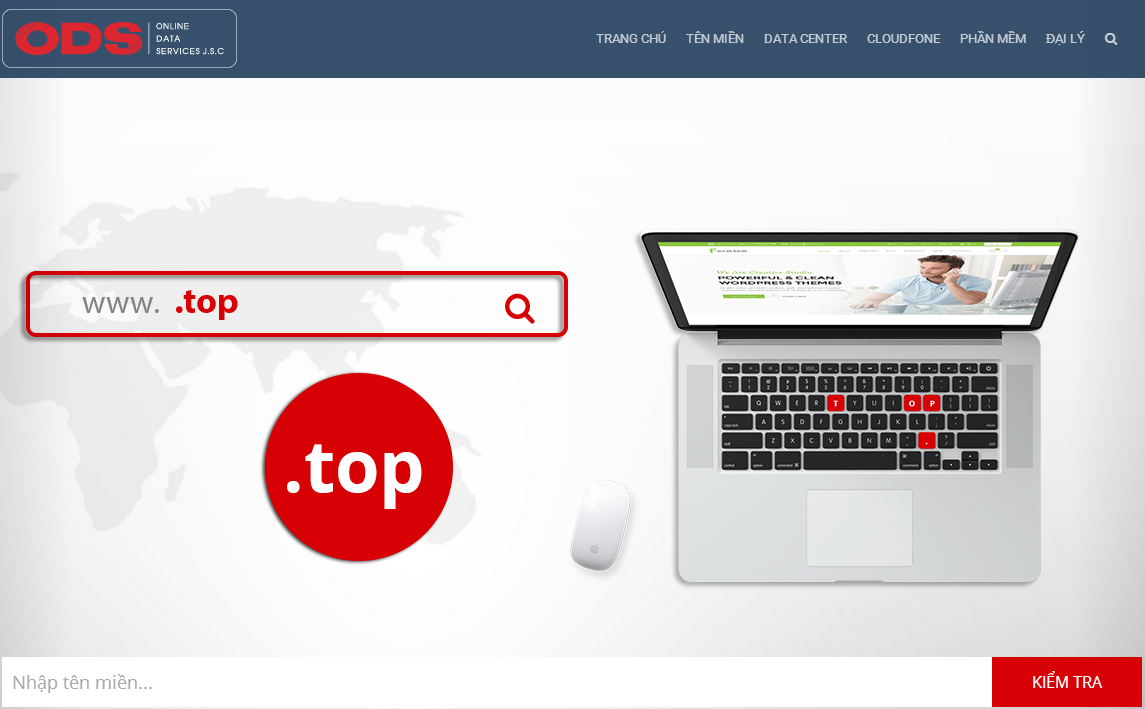 (to GMO, Namecheap and Dynadot)
GMO: As Japan's largest registrar, GMO had single day's registration of 3000+ in Nov., and the whole month volume increase above 50% than that of Oct.. Really big progress, congrats on it!

Dynadot: Comparing with Oct., .top registration in Nov. increased around 50% comparing with previous month. This is due to the Black Friday & Cyber Monday sales, seems like "buy buy buy" is the nature of people on earth.

Namecheap: You can always get cheap names from Namecheap. Obtaining single day registration of 2000+, Namecheap's monthly volume increase around 20%, cool performance!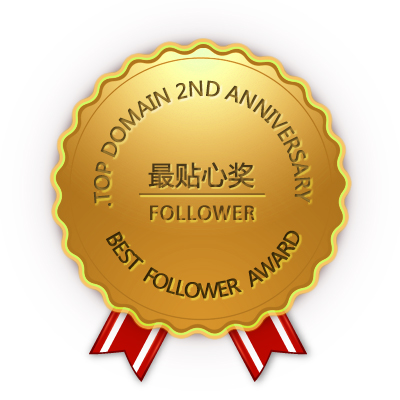 (to SuperRegistry, Epik, Instra, Hexonet and OVH)
SuperRegistry: With different registration platforms like Rebel.com, Rebel.ca and Internic.ca, SuperRegistry has increased .top volume over the past months. See their wishes to .top domain, with balloons flying!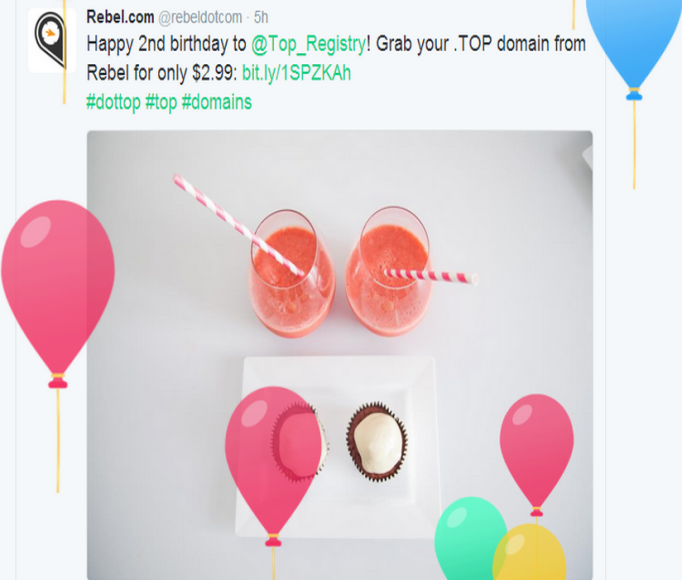 Hexonet: TOP of the World, Hexonet says what all of us want to say!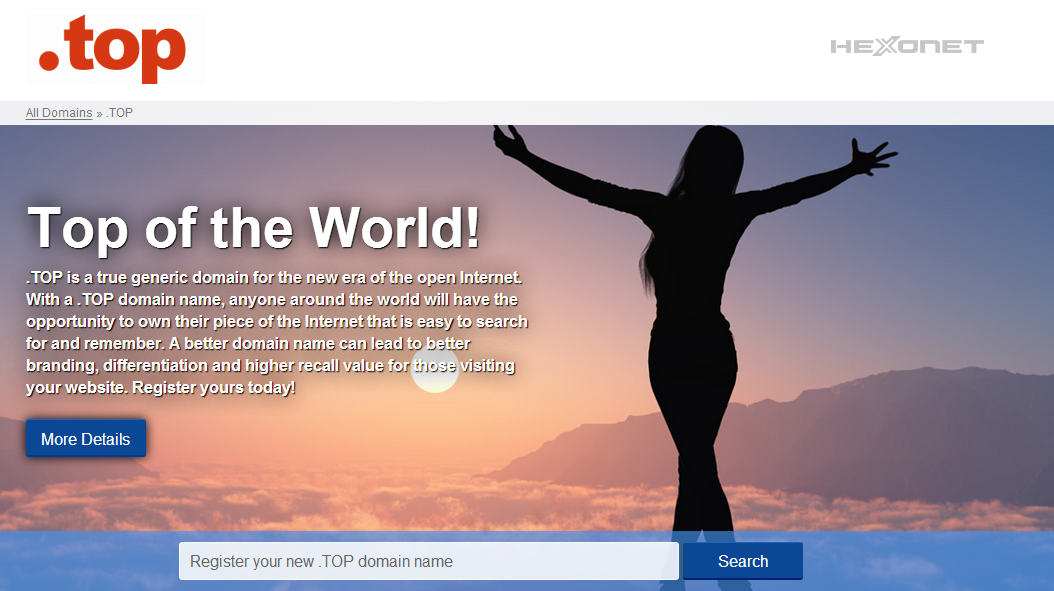 Epik, Instra and OVH: Thanks for the frequent likes given to .top and the postings retweeted, this is one of the driving force made us to do a better job!


(to Name, 101domain, Gransy and Gandi)
Name, 101domain, Gransy and Gandi: There are premium domains registered almost everyday via different registrars both in and outside China, making us more consistent on the strategy: expanding the application of .top domains among end users. In Nov, the premium selling outside China comes from Name and 101domain, US market, as well as Gandi and Gransy, Europe market.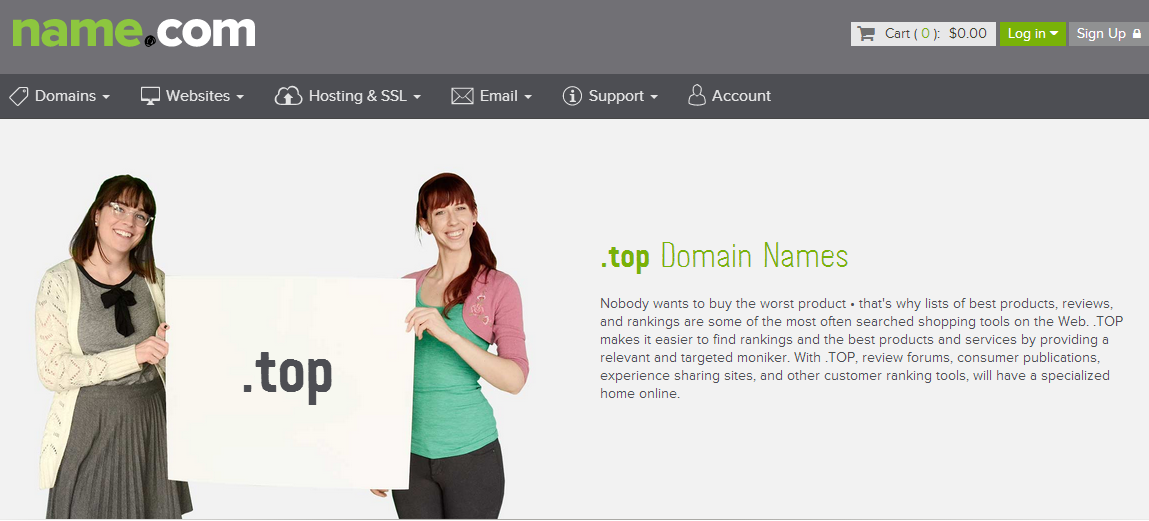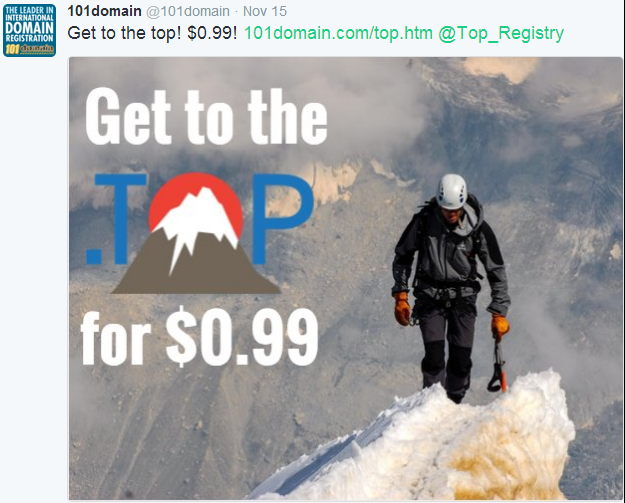 (DomainCostClub, eNom, Netim and Ru-Center)
DomainCostClub: Can you feel the upbeat power and the potentiality by a glimpse at their twitter post?
eNom and Netim: they starts offering .top in November, let's expect their performance!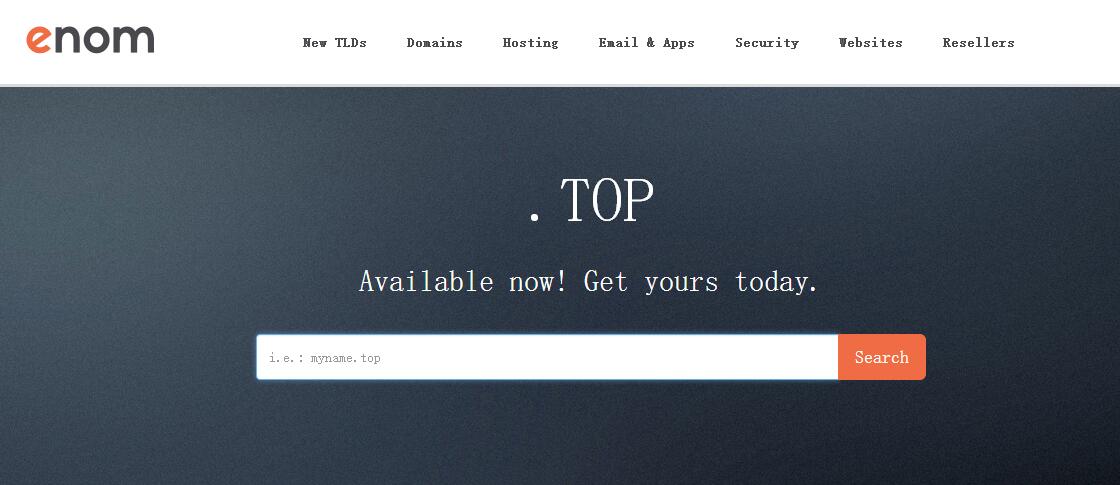 Ru-Center: there is promo in December, so the potential is going to be released soon!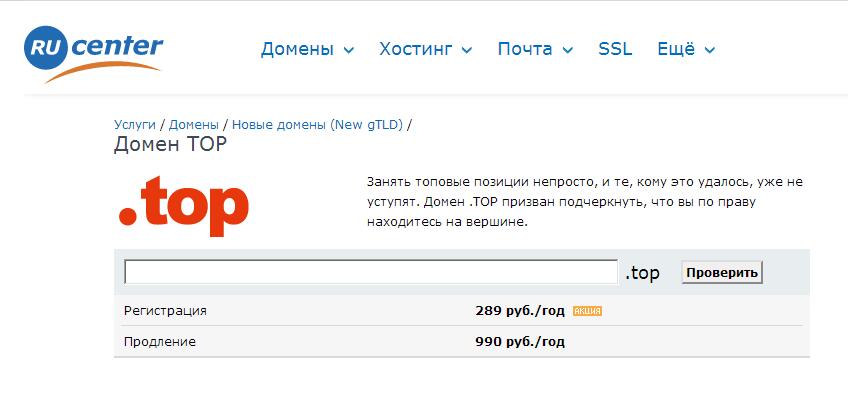 (Rumahweb, OpenProvider, Intracomme and Galcommm)
Rumahweb:I understand nothing by the Indonesia language, but I see .top flying in the sky!

OpenProvider:Our members are top! The best confidence ever seen!

Intracomme: Don't put what you can do today till tomorrow, get to the .top today!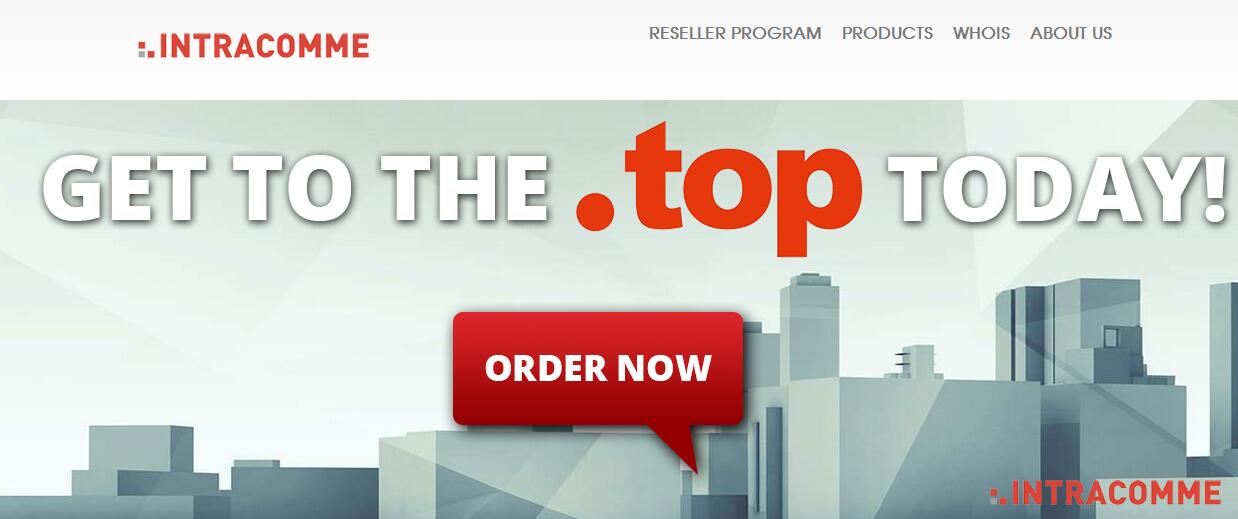 Galcomm: Match your online presence with a top domain name!


Congrats on the above registrars and thanks for being there. .Top global registration has broken 4 million with registrants from over 247 countries and regions within two years. Let's jointly create new developments in the new year ahead!